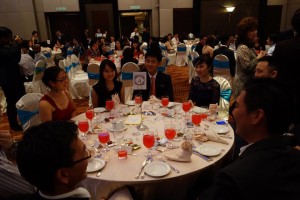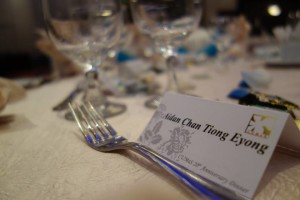 CUMaS is now 20!
What better way to celebrate this momentous occasion than to have a nice dinner with our members and the illustrious alumnus? CUMaS has been serving the Malaysian community in the University of Cambridge since its establishment in 1994. Throughout the years, we have never failed to achieve our aims and objectives: to promote, uphold and represent the interests and welfare of Malaysian students. With many members opting for the lifetime membership, our member list expands every year. We've had many challenges along the way but our tight-knit, hardworking and inspirational members have always ensured that we remain a stable and successful society.
To celebrate CUMaS's 20th Anniversary in 2015, we cordially invited all our current and graduated members to join us in the CUMaS 20th Anniversary Dinner, which was held on the 13th of September 2014 in Eastin Hotel, Petaling Jaya. In a collaborative effort to reconnect the graduated members, CUMaS had started an Alumni Network initiative since 2014, and with the assistance of the Oxford and Cambridge Society, Malaysia, we successfully invited 95 graduated CUMaS members for the dinner. Some of the notable guests of honour were Dr Elizabeth Lee, Senior Executive Director of Sunway Education Group, Dr Ong Kian Ming, Member of Parliament of Serdang and representatives from the CUMaS sponsors.
Before the grand dinner, there was a pre-drinks session outside the hall. CUMaS's members of a diverse age range mingled together in the lively setting. The half an hour session was followed by speeches in the grand ballroom; with Dr Elizabeth Lee starting things off followed by the past and present presidents of CUMaS such as Mr Chia Horng Sheng and Miss Lauren Ong. The brief opening ceremony ended with a video reminiscing CUMaS's journey throught the 20 years of its existence.
The rest of the night was filled with some amazing performances and socializing between current students and the alumni. To the disappointment of all the guests, the end of the dinner came too soon and everyone had to say farewell to each other. One last group photo was taken before everyone had to depart, but they left content, having networked with many like-minded people throughout the night. It was definitely a joyous occasion, one not soon to be forgotten. With this, we hope to see CUMaS expanding its ranks of brilliant people and for its members to form everlasting bonds that will serve the nation well.