CUMaSKini 09/02/2015: MNight 2015, Chinese New Year Lunch 2015 and Karaoke Session, CUMaS Sweaters, Annual General Meeting, CUMSA Play 2015, Shell Malaysia Careers, KPUM Spring Formal, KPUM Lawatan Sambil Belajar
9th February 2015
Dear all,
Happy Week 4 everybody! Today's newsletter is a series of important reminders because they are…important!
Other new notices include: Karaoke Session (Post-CNY Lunch event); our sister society CUMSA's Annual Play; Shell Malaysia Career Opportunities; KPUM Spring Formal and Lawatan Sambil Belajar
Yang aysik bekerja,
CUMaS Committee 2014/2015 
---
---
 1. MNight 2015
https://www.facebook.com/events/325252657663539/?fref=ts
Don't forget to purchase your MNight tickets before the early bird offer ends THIS WEEK!
You can buy your tickets here: https://docs.google.com/forms/d/1FFwoKS-EHWmFaoOrJIvIz7JtcBrmcDuE3RFUPn2OzAc/viewform
Details
Date: 7 March 2015
Time: 7.30pm – 10.30pm
Venue: McCrum Lecture Theatre, Benet Street, Cambridge
Ticket Price
Early bird discount
(valid for those who pay before 11.59pm 14 February 2015)
CUMaS members – £4
CUMSA members – £6
Non-members – £8
Normal Price:
(Payment made on 15 February onwards)
CUMaS members – £6
CUMSA members – £8
Non-members – £10
 2. Chinese New Year Lunch and Karaoke Session
Hi all! CNY is about to come, so how will you spend the weekend before CNY aside from joining our fancy CNY Lunch on 15/2?
Why not spend the rest of the afternoon joining us for an extended Karaoke (or mahjong) session? We have secured 2 karaoke rooms from 1.30pm to 6.30pm on Sunday 15/2/2015 as part of the CNY celebration, and it is FREE of charge! In case if you can't make it for lunch, we will still hope to see you during the Karaoke session.
Details for Karaoke Session:
Date: 15/2/2015 (Sunday)
Time: 1.30pm to 6.30pm
Venue: China Blue K-Bar, Cambridge (Right above China City Restaurant)
Address: Wellington Street, Cambridge, CB2 1HZ
Facility: 2 Karaoke rooms with a mahjong table: 30 people capacity
Note: Chinese New Year Lunch sign ups have closed. Below are the details of the CNY lunch as a reminder:
Date: 15 February 2015
Time: 1.00pm-5pm
Venue: China City Restaurant,
Wellington Street
Cambridge
CB1 1HZ
 3. CUMaS Sweaters
TOMORROW IS THE LAST DAY TO ORDER THIS GORGEOUS CUMaS sweater! Design credits goes to Kok Zhi Hao
https://docs.google.com/forms/d/1o4SOSM4vKkJOkjrXn7FCAHq4sW6yqKZFtu4MlMGatQs/viewform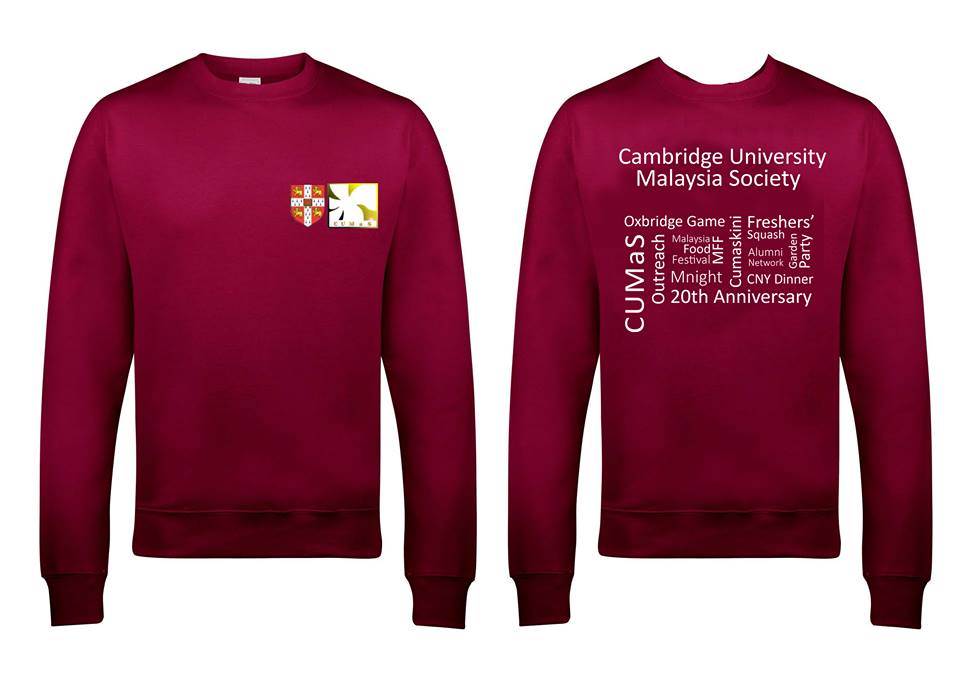 4. Annual General Meeting 2015
This is a reminder that we are now accepting Manifestos for CUMaS Committee positions!
Click below for details on how to apply!
https://www.cumas.org/wp-content/uploads/2013/07/CUMaS-AGM-2015.pdf
Deadline to submit your manifesto: 11.59pm 15/2/2015
Date: 26th February 2015 (Thursday)
Time: 6pm – 10pm
Tentative Venue: Newnham College
 5. CUMSA Play 2015
CUMSA PLAY 2015
As you would have heard, CUMSA Play is back! This year, Singapore is turning 50 year old and in the spirit of the nation's 50th birthday celebration and also to share a story of the little things that remind us of home, CUMSA presents you the play titled "LOONG KEE SUPERMARKET".
—
Synopsis
Ah Hui is the owner of a humble Asian supermarket nestled in the heart of the city of Cambridge. For two decades, Loong Kee Supermarket has been his pride and joy. For his many customers, it has become synonymous with a home away from home. It is here that the lives of Ah Hui and his friends and family unfold and intertwine endlessly, as old memories are shared and new stories are written. Yet, beneath Ah Hui's deceptively peaceful day-to-day life at his supermarket lie troubles and ideals that seemingly no one can understand – or can they?
Join us on the 27th of February as we tell a story of a supermarket that has come to symbolise much more.
—
Event details are as follows:
Date: 27th February 2015 (Friday)
Time: 8pm
Venue: Corpus Christi McCrum Lecture Theatre
Tickets: £6 (single)/ £30 (bundle of six)
Sign up and book your tickets now at cumsa.org/cumsa-play!
Please note that the offer of the bundle of six ends on the 13th February 2015, and tickets can sell out quickly, so remember to sign up early!
Facebook event: https://www.facebook.com/events/1597506613802406/
6. Shell Malaysia Careers
It's exciting times for Shell Malaysia as we take on new and exciting projects on both the technical and commercial front. With this growth, comes the opportunity to be part of the teams that are behind these projects. 
The Shell Graduate Programme is designed to allow you to maximise your talents and strengths and enable you to develop new skills that will help you for future success.
Now is the perfect time to apply as we will be one of the main sponsors of the UKEC Career Fair on 28 March in London, and we are actively recruiting for a wide range of roles. We welcome applications from the students with the following study backgrounds:
Technical: Any branch of Engineering, Geology, Geophysics
Commercial: Business, Management, Economics, Finance, Accounting, Psychology, Human Resources, Sales & Marketing, Property Development
Apply before 6th March and stand a chance to:
–       Receive a VIP invitation visit to the UKEC Careers Fair at the Lancaster Hotel, London on 28 March 2015 – up to 5 students travel expenses will be paid for.   Here you can meet Shell staff and discover what opportunities we have for you.*
–       Receive an invitation to an exclusive Case Study at one of Shell's London Offices in April. Up to 50 candidates who are successful at Interview will be invited to take part and meet senior business leaders.+
To apply complete the following steps:
Step 1     : Submit your online application before the 6th March 2015
Step 2     : Complete the online e-assessments
Step 3     : Shortlisted candidates will be invited for either a phone interview or a face to
face interview.
Step 4     : Shortlisted candidates will be invited for the SRD Assessment.
These roles are based in Malaysia and applicants must have valid work authorisation in Malaysia.
*All UK based applicants for Malaysia based graduate roles who have applied by 6 March 2015 and have passed our Online Tests, but not yet been interviewed will be considered.  5 VIP invitations will be allocated on the basis of the merit of the applications.
+ All UK based applicants for Malaysia based graduate roles who have applied by 6 March 2015 and have passed Interview but not yet attended a Shell Recruitment Day will be considered.  50 places will be allocated on the basis of the merit of the applications.
 7. KPUM Spring Formal & Lawatan Sambil Belajar
Here it is! 
The long-awaited launch of the KPUM SPRING FORMAL 2015! 

Prepare to suit/dress up on 13th March 2015 as KPUM brings you this prestigious black tie event at the Honourable Society of the Inner Temple! Enjoy a delightful meal alongside distinguished figures from Malaysia and the UK in a Harry Potter-esque setting. Our speakers include an ex-Court of Appeal judge, Sir David Keene.

Famous members of the Inner Temple include Malaysia's first Prime Minister, Tunku Abdul Rahman, Sir Edward Coke, and Amal Clooney. Did I mention that the guest of honour of one of KPUM's past dinners with the Inner Temple was none other than Lord Denning? 

So, sign up for an extraordinary night!

Below is the link to the event: 
https://www.facebook.com/events/581325891968601/?context=create&previousaction=create&ref=21&source=49&sid_create=2426913084

Registration opens on Monday 9th February 2015; this event is open to all Malaysian Law students.
KPUM: United Kingdom & Eire Malaysian Law Students' Union
Following our upcoming event, KPUM Spring Formal 2015 at the Inner Temple, KPUM has arranged a special guided tour to the Inner Temple through Lawatan Sambil Belajar!

KPUM Lawatan Sambil Belajar to the Law Society and the Honourable Society of the Inner Temple will not only promote knowledge on these professional bodies for solicitors and barristers, but also allow attendees to learn about the rich history of the Inn and life as a prospective member. Notably, Malaysia's first Prime Minister, Tunku Abdul Rahman was a member of the Inner Temple!

Best part? You'll get to enjoy a 3 course lunch in a Harry Potter-esque setting at the Main Hall, Inner Temple!

Limited space available! So, register now via the link below:
http://www.kpum.org/…/kpum-lawatan-sambil-belajar…/

Facebook event link: 
https://www.facebook.com/events/348932551974733/?context=create&previousaction=create&ref=21&source=49&sid_create=3696854988