CUMaSKini 10/11/2014: Malaysian Food Festival 2014, Nottingham Games Update, LSE MVoice, Abacus Boat Party, MACFIS Nottingham
10th November 2014
Dear all,
Week 5 blues? Missing Malaysian Food? Well The Malaysian Food Festival 2014 will be held this Saturday! Do sign up and invite your friends to come and enjoy our local delicacy!
There are some updates on the Nottingham Games for those involved and as always, some news on other events going on that you may be interested in 🙂
Yang berminum kopi,
CUMaS Committee 2014/2015 
---
---
 1. Malaysian Food Festival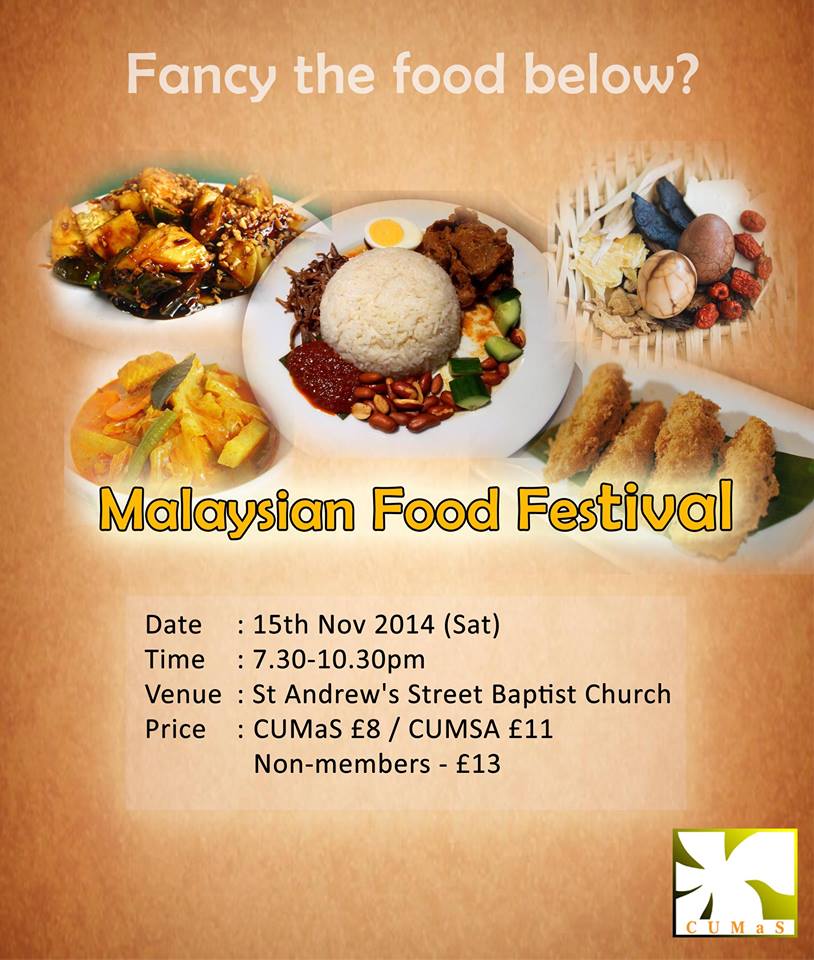 The Malaysian Food Festival is this Saturday! There's still time to register and invite more people to come join this food fiesta!
Details
Date : Saturday, 15th November 2014
Time : 7.30-10.30pm
Venue : St Andrew's Street Baptist Church, Cambridge

Price: 
CUMaS members – £8
CUMSA members – £11
Non-members – £13
If you are interested, please sign up here –> https://docs.google.com/forms/d/10Lk-SE9eSafS1W6t100oalW1Dr_kIpBw70LE0B0nMW0/viewform?edit_requested=true
Also, feel free to bring your own Tupperware to eat from during the event! Help us save the environment and reduce the amount of paper plates and cups that we have to use! 
 2. Nottingham Games
For those involved in the Nottingham Games, the details for bus transportation are as follow:
Time: 5am
Date: 22nd November
Venue: Queens' Backs
Reminder: Please bring 3 pounds per person whether or not you are a participant or a supporter
AND DON'T OVERSLEEP!
 3. LSE MVoice
https://www.facebook.com/events/964678216894906/
One Stage. One Dream. 

LSE SU Malaysia Club is hosting MVoice – a singing competition for all Malaysian students in the UK. We are excited to gather talented students who all share a passion for music. 


AUDITIONS
Start: 30th Oct
End: 13th Nov
Interested individuals can send in a video featuring themselves singing to lsemvoice@gmail.com. Top 12 will be chosen based on the number of likes on FB and the judges would choose their favourite two to go into the preliminary round.


PRELIMINARIES 
Date: 29th Nov, Saturday
Time: 6pm to 9pm
Location: LSE
Competition structure:
Top 14 contestants from audition will have 1.5 minute to perform solo. Followed by a duet round in predetermined pairs.
6 contestants will be eliminated in this round.
SEMIFINALS & FINALS
Date: 30th Nov, Sunday
Time: 5pm to 8pm
Location: LSE
Competition Structure:
Semifinals – Contestants will compete in a one-on-one sing off where judges will be asked to pick a winner in each sing off.
The winner will be safe from the elimination while the other will remain in the danger zone. The judges will then pick one contestant from the danger zone to go to the finals.
Finals – One solo song, which is based 80% on votes by audiences and 20% by judges.
For any enquires, please contact June Yap & Diana Ong!
4. Abacus Boat Party
https://www.facebook.com/events/1555680178001090/
Cambridge's ABACUS and Oxford's OUAPS – and this year Warwick's Chinese Society – welcome you on board the Dixie Queen, London's largest entertainment and party boat.

The top deck will be for all the clubbers out there 😉 

There'll be plenty of entertainment on the lower deck. Poker tables, blackjacks, a live band, a saxophonist, a magician performing all night, photographers, chocolate fountains, calligraphy… you're spoilt for choice. 

We'll be cruising past key London attractions including the London Eye, Big Ben and London Bridge.

This year's theme is Monte Carlo. Think class, casinos and conviviality! 

VIPs will be treated with a champagne reception, priority access to the chocolate fountains for the first hour and a group of six VIP ticket holders will be able to reserve a table. Each VIP will also be entered into a raffle for a bottle of Moët & Chandon Impérial Champagne Brut.
The Boat Party is the highlight of the ABACUS calendar. You do NOT want to miss out on this party!
————–
Date: Saturday 29th November
Time: 20:00-00:00
Location: Tower Millenium Pier, London
Dress code: Black tie
Tickets:
Standard member: £35
Standard non-member: £43
VIP member: £45
VIP non-member: £53
Coach to and from London:
With food from Chinese Canteen: £10
Without food: £6
You're welcome to meet us at the Tower Millenium Pier at 19:30.
Please bring enough cash for drinks on the boat – cards will not be accepted.
Sign up today: http://goo.gl/forms/clJvMeayZN
(Note: This signup link is for Cambridge and London students ONLY!!)
5. MACFIS Nottingham
In collaboration with Nottingham Malaysian Games this year, the Malaysian Accounting and Finance Society for UK and Ireland (MACFIS) is going to organise a 7-Minute General Knowledge Challenge! Teams of 2 or 3 will have to answer 50 general knowledge questions in 7 minutes and stand a chance to bring home £100 cash prize! Registration is FREE and details are as stated in the pictures. Sign up is available at https://docs.google.com/forms/d/1u7fj37cziZASwhwqmHk7c3Rul7W4JN8tOFiM3q9lBzs/viewform?usp=send_form