CUMaSKini 31/10/2014: Shell Meet and Greet Session, Dino Swap 2014, CUCNY Charity Run, Reminders
31st October 2014
Good day everyone and congratulations for making it through half of Michaelmas! Here's a CUMaSKini for fun and cheer *throws virtual confetti*
Also note that this newsletter contains quite a number of reminders which include: the Malaysian Food Festival (I'm pretty sure you saw the nasi lemak photo on our Facebook page– it's hard to ignore isn't it?), Nottingham Games, and Oxford Science Fair.
Yang sangat gembira,
CUMaS Committee 2014/2015 
---
---
 1. Shell Meet and Greet Session
https://www.facebook.com/events/651700778277663/?ref=ts&fref=ts
Date: 1st November (tomorrow!)
Venue: Sidgwick Hall, Newnham College
Time 2pm to 4pm

Shell, our platinum sponsors will be holding a short meet and greet/ information session this Saturday (1 Nov). It'll be a great time to find out more about the opportunities that the company offers for penultimate year as well as graduate students. Don't worry if you don't fall into either category. We will still welcome you and you could probably get some tips on how to prepare for applications next year.

It would be really helpful if you click attending on the Facebook event so we roughly know how many people are coming.
 2. Dino Swap 2014
https://www.facebook.com/events/840582975991872/?fref=ts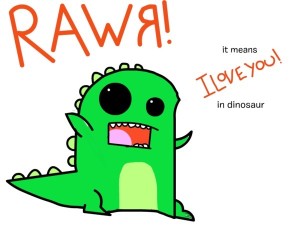 Sign-ups Here: http://goo.gl/forms/eYfCBHjvxr

For those that doesn't know what DINO SWAP is, it's a SWAP between DINOs and freshers! (haha, you don't say!) It all started in 2009, when malaysians feel that they are not mixing with the "older/younger" people enough, so a swap between them is held every year since then.
It's one of the few events where the ratio of DINOs to freshers are close to 1:1, not something that you'll get in any other event!! (shameless promoting….)
Event details as below:
Date: 8th November (Sat)
Time: 7.00-9.30pm
Venue: TBC
Price: Around £15 (TBC), which includes dinner + wine
PS: There'll be alcohol involved
PPS: Dinos are 3rd years and older (if you don't already know)
Signups here: http://goo.gl/forms/eYfCBHjvxr
 3. CUCNY Charity Run
Sign Up now for the CNY Charity run! Held in Jesus Green on November 9th at 2pm. Great opportunity to contribute to our charity and to gain some of that much needed exercise!

We will be giving out special gifts for our participants: including restaurant vouchers, discount cards to local stores etc. You will also get a chance to get a free t-shirt and more importantly FREE CNY BALL 2015 TICKETS! All proceedings will go to our projects in provision of better education for underprivileged children in China

Check out our Facebook page:https://www.facebook.com/events/1544308189117973/?context=create&previousaction=create&source=49&sid_create=1019470196
To Sign up please fill in the Google form: http://goo.gl/forms/JKMTfS1uwo 
Looking forward to seeing you there!
4. Malaysia Food Festival (MFF)
Sign Up Sheet: https://docs.google.com/forms/d/10Lk-SE9eSafS1W6t100oalW1Dr_kIpBw70LE0B0nMW0/viewform?edit_requested=true
Appliances List: https://docs.google.com/a/cumas.org/forms/d/1rq7Vygpt0GrTq2M53rwtDzOk2gi_v5C7hma4otsB1S8/viewform?edit_requested=true 
Malaysian Food Festival 2014
Great news! Malaysian Food Festival (MFF) is back once again for 2014 on 15th November.Join us in enjoying the rich and exotic flavours of local favourites as MFF will showcase the colourful and vibrant Malaysian culture in the way we know best : through our food!Begin your food adventure this November and explore, or perhaps rediscover the Malaysian in you!
5. Nottingham Games
Date: Saturday 22nd November 2014
Venue: University Park, The University of Nottingham
Time: 7:00 AM – 7:30 PM
If you're still interested in participating but haven't sign up do contact Chow Jia Rui at sports@cumas.org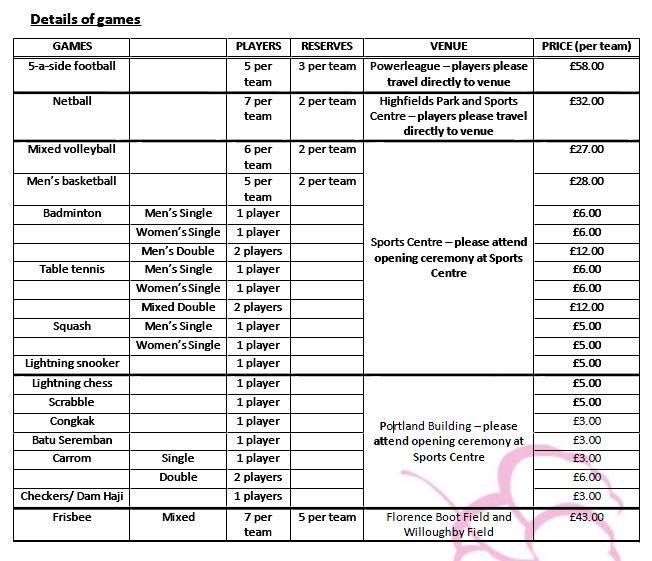 6. iCUSU Talent Show Sub-Committee
CUSU Talent Show Sub-committee is recruiting!

It's the first time ever for iCUSU to hold the International Talent Show which will be the highlight of this year. As many of us know, quite a few international societies hold annual balls at the start of Lent term. Our aim is to draw the best performances from all the balls and combine them with the shows selected through our audition process to create a real international talent show. All profits will go to charity.

Rather than waiting for the show to be delivered in front of you, YOU could be the one to make this happen and shape the final outcome. 

What are you waiting for? Give it a go and come to our interview! (time and venue TBC). Please contact Cherry(yt301) if you are interested!
 7. Oxford Science Fair
Ever wondered how science is done in Malaysia? Are there opportunities for you in the scientific realm back home? Or is there something you wish to change in the scientific world in Malaysia?

Find out more and join in our discussion at Science@Malaysia 2014 happening on the 22 November 2014 at the University of Oxford! Share it with your friends who may be interested too!
Register at: http://conference2014.scientificmalaysian.com/registration/.
For more information, click on the event page below!
https://www.facebook.com/events/325794490913453/?ref_dashboard_filter=upcoming
CUMAS has decided to hire a chartered bus if there are a lot of members going for the event. So please kindly fill up the form below. The transportation fee for the bus will be partially subsidized by CUMAS.
The deadline for signing up is 29 October.
https://docs.google.com/forms/d/15TVyf8h0JhrQlHEHw4X90ta0usduDqaUthpYX6hZm5o/viewform
PS – Clashes with Nottingham Games