The fragrant smell of Nasi Lemak wafts delicately through the air, laughter and chit-chat reverberate around the hall and big smiles plaster the faces of everyone there. All these wonderful sensations were experienced at the Malaysian Food Festival in the University of Cambridge.
"What? Malaysian Food? What's that like?"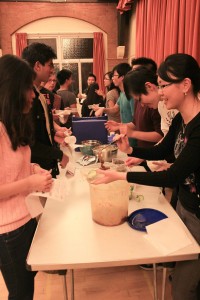 Oh my dear friend, you are missing out on a lot if you have yet to try the many palettes of Malaysian cuisine. From the sweet and spicy sambal to the glutinous sweet, onde onde, the sheer variety of delicacies that Malaysia has to offer will almost always leave you craving for more. And for us, the Malaysian students at the University of Cambridge, we'd love nothing more than to share our delicious food with all our friends here at Cambridge!
So CUMaS organizes the Malaysian Food Feast (MFF), an annual event that lets our guests taste some of the many dishes that Malaysia has to offer. The MFF is one of the biggest CUMaS events of the academic year. For 2014, it was held on the 15th of November. Our MFF successfully attracted more than 300 visitors, with a very high turnout of non-Malaysians. We were very excited to show all our non-Malaysian friends the mouth-watering delights that Malaysia is famous for.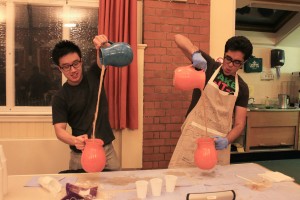 To ensure the quality of the food, some preparations started as early as 2 days before the event while other preparations involved more than 10 people. Many of the ingredients were even brought from Malaysia by CUMaS members themselves! Amidst the busy schedule of Cambridge, many CUMaS members worked together hand in hand to make the MFF a success and had a wonderful time cooking together.
Scrumptious delicacies such as nasi lemak with sambal, chicken curry with paratha and chi kut teh featured as the mains for the night. Herbal eggs, rojak, and pisang goreng were served as typical Malaysian sides, while onde onde and red bean soup with sago made up the dessert list. Coupled with the ever present and ever delicious teh tarik, MFF provided an opportunity for our friends of other nationalities to try out Malaysian cuisines and also for the Malaysians to rejoice in eating the food we dearly miss.
Many people came with hungry stomachs and left the event later that night not just having satisfied their cravings or having tried amazing new food, but also with the happy feeling of making new friends. This event provided a truly Malaysian experience of bonding over food.