TUESDAY – OCTOBER 13 2020
Hello freshers! Welcome to CUMaSKini, your one stop newsletter for CUMaS activities and sponsors information. Despite the pandemic, CUMaS still has plenty of activities in store, from #RakyatRabu to Malaysian Film Festival. Make sure to keep and eye out for them!
Michealmas Term Card
#RakyatRabu 1
HELP NEEDED TO PRODUCE MNIGHT FILM!
Swire Management Programme 2021
#RakyatRabu is a curated speaker series exclusively for CUMaS members! We'll be featuring prominent Malaysian figures to discuss about different issues and topics in Malaysia and beyond.

We're proud to announce that the first #RakyatRabu is on the 21st of October (Wednesday) from 1pm – 2pm, via Facebook livestream for all members. We'll be kickstarting it by introducing an important topic: Environmental Sustainability in Malaysia, with two famous Malaysians as our speakers.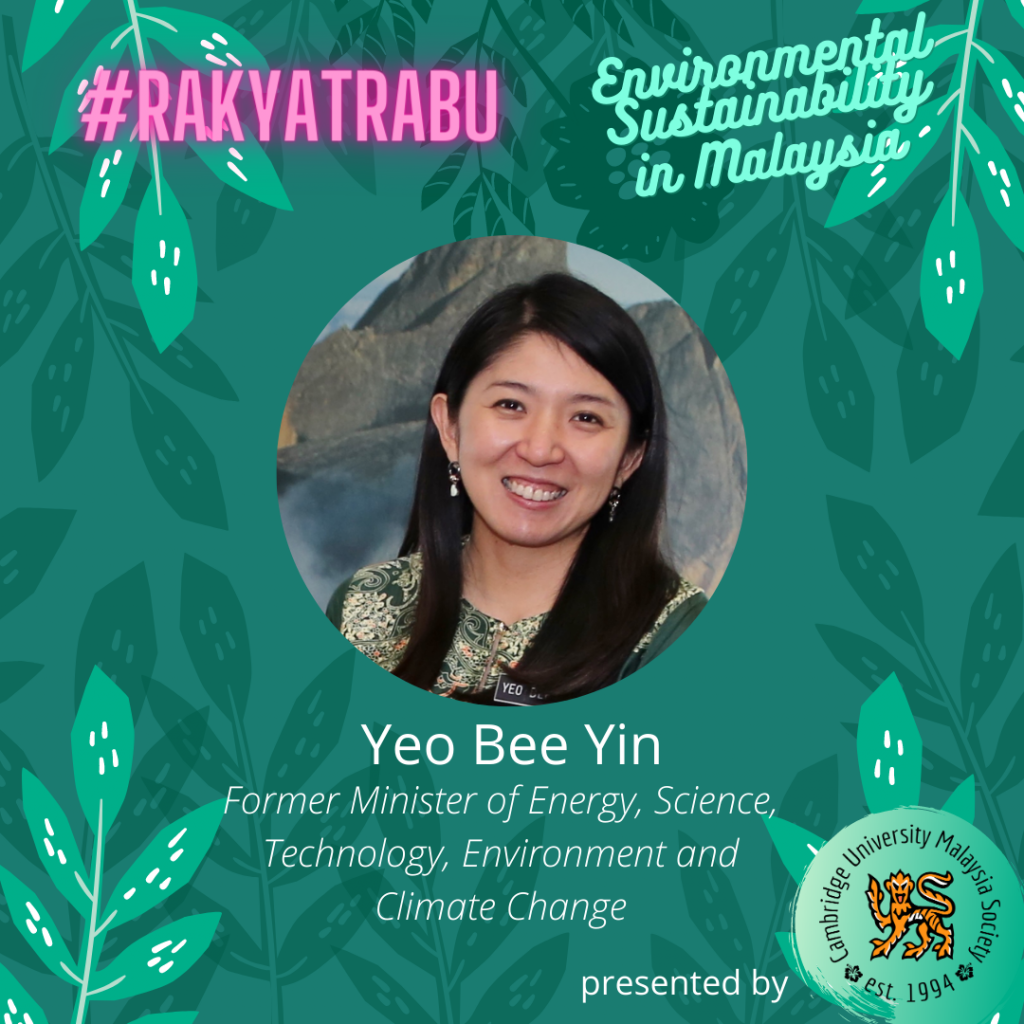 Speaker 1: YB Yeo Bee Yin
YB Yeo Bee Yin is the former Minister of Energy, Science, Technology, Environment and Climate Change and a Member of Parliament (MP) for Bakri in Johor. Yeo graduated from University Technology Petronas with first-class honours in Chemical Engineering, and later with an MPhil. in Advanced Chemical Engineering from the University of Cambridge. She is also a recipient of the renowned Gates Cambridge Scholarship. 
 
Amongst Yeo's early actions as minister was to announce an increase of renewable energy goals from 2% to 20% by 2030. She also initiated a refurbishment of government buildings to lead on efficient energy consumption. When setting up a nationwide ban on the import of plastic waste, she also published a 12 year roadmap that includes a legal framework in eliminating the use of single use plastics in Malaysia by 2030. 

Yeo was recognised as Nature's Top 10 people who mattered most in 2018 by renowned scientific journal, "Nature". She was named as one of The Seven People Who Stood Up for Our Planet 2018 by "Eco-Business", and was recognised as one of the Young Global Leaders for the class of 2019 by the World Economic Forum. She has also been listed as one of The 25 Inspirational Female Climate Leaders shaping the climate agenda in 2019 by "The Ecologist", a British environmental magazine.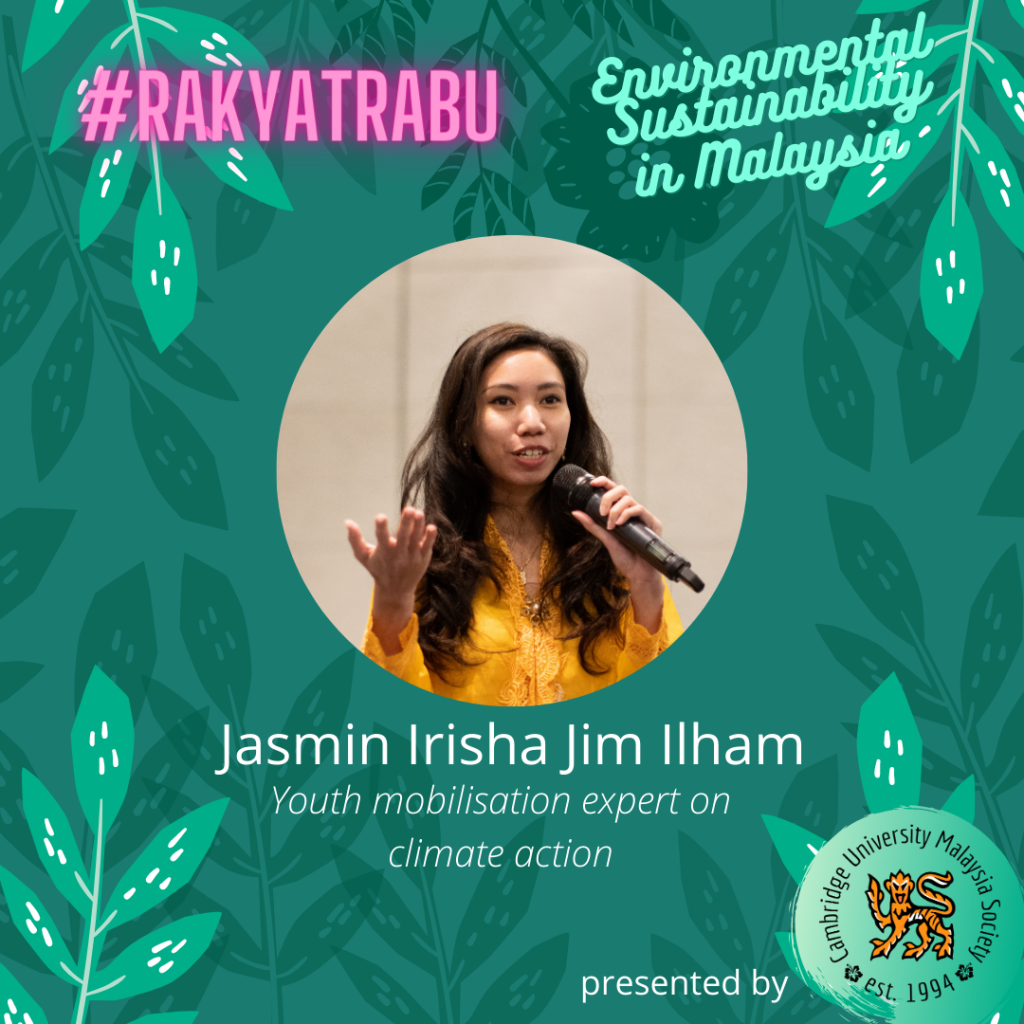 Speaker 2: Jasmin Irisha Jim Ilham

Jasmin Irisha Jim Ilham is a youth mobilisation expert on climate action and experienced sustainable development researcher at the science-policy-practice nexus. She was the former Manager of the Malaysian Youth Delegation to UNFCCC, where she tracked the climate change negotiations. She has also held research positions at Universiti Sains Malaysia, Jeffrey Sachs Center on Sustainable Development at Sunway University, and the Earth Institute and NASA Goddard Institute for Space Studies in New York.

She obtained her Masters in Climate and Society from Columbia University, majoring in climate science with concentration in climate policy, international environmental law, and global governance. She is currently the Climate and Environment Consultant at UNICEF Malaysia.
HELP NEEDED TO PRODUCE MNIGHT FILM!
Hi guys! Exciting stuff…

This year's MNight will be taking a slightly different format to ensure your health and safety. Instead of putting on a live performance, we are going to make a short film to be showcased in March along with others produced by M Socs around the UK.

This is a really exciting opportunity to broaden your skill set and embrace Malaysian culture through an entirely new medium!!!
As this is quite a large task, help will be required with planning, casting, filming, editing and much more. There is absolutely NO EXPERIENCE REQUIRED as the Malaysian Student Film Festival committee, under the UKEC, will be providing online workshops on film production.

We also need people to compose an original soundtrack if at all possible…

Please email ents@cumas.org if you have even the slightest bit of interest or curiosity about producing our first ever MNight film – any help will be greatly appreciated. Thank you so much!
Swire Management Programme 2021
Learn more about the opportunities that the Swire Management Programme offers to explore different industries, functions, countries and cultures! Live Q&A session is available in all events.
 
Alumni Chat (Oct 14, 19-22) – Hear from alumni of various universities about their experience on the Swire Management Programme after graduation. A Swire HR representative will also be present to take any questions related to the programme and application.

In particular on 19th Oct, two Cambridge alumni will be sharing their career experience at Swire. They are Everest Marshall (Cambridge Alumni 2017, Chinese Studies) and Conor Mitchell (Cambridge Alumni 2018, Chinese Studies).
SMP Executive Dialogue (Oct 15, 20, 23) – Hear from SMP Executives from Swire Properties, Cathay Pacific Airways, Swire Coca-Cola and Swire Shipping for inspiring panel discussions on emerging hot topics.
 
Spaces are limited – Register NOW!
 
Note: All events listed on Eventbrite are open for anyone interested in learning more about the Swire Management Programme.
 
To apply to the Swire Management Programme 2021:
https://bit.ly/3ckMcuF
 
Application deadline: 31 October 2020 (23:59 HKT)
 
More SMP Executive sharings and business stories on the below social media channels:
 
Facebook: https://www.facebook.com/SwireMT/
LinkedIn: https://www.linkedin.com/company/john-swire-&-sons-hk/
WeChat: SwireMT太古管培生招聘
Aldric Goh
CUMaS Publicity Officer 20/21